Welcome to the world famous Big Texan Steak Ranch in Amarillo Texas!
Learn about all the exciting things to do at the Big Texan Steak Ranch! Check out the winners and rules to the 72oz Steak Challenge. See our full menu and take-out options. Shop our giftshop online. See full list of our handcrafted beers from our brewery.
In 1960, R. J. "Bob" Lee opened The Big Texan Steak Ranch in Amarillo Texas on Route 66, the "Mother Road". It's distinctive architecture soon became recognized across the Mother Road as a good stopping place for great steaks grilled over an open flame. The Big Texan is famous for the FREE 72oz steak challenge, which includes eating a salad, baked pototeo, shrimp cocktail and 72 ounces of beef! 
Plan Your Big Texan Experience
Enjoy the ultimate Texan experience with us! The Big Texan has more to offer now than ever! Listen to your favorite country music artist under the stars at our music venue. Choose to spend a night in the old west and stay at our wild west motel or stay with our featured partners. All facilities are located in Amarillo Texas.
From the Big Texan Giftshop
Buy 3 Souvenir Plates, Get One FREE
Complete the whole set this year with this limited time offer. Purchase 3 plates at $19.99 (plus tax) each, and get the fourth one for FREE! *Add four plates to your cart to receive the discount.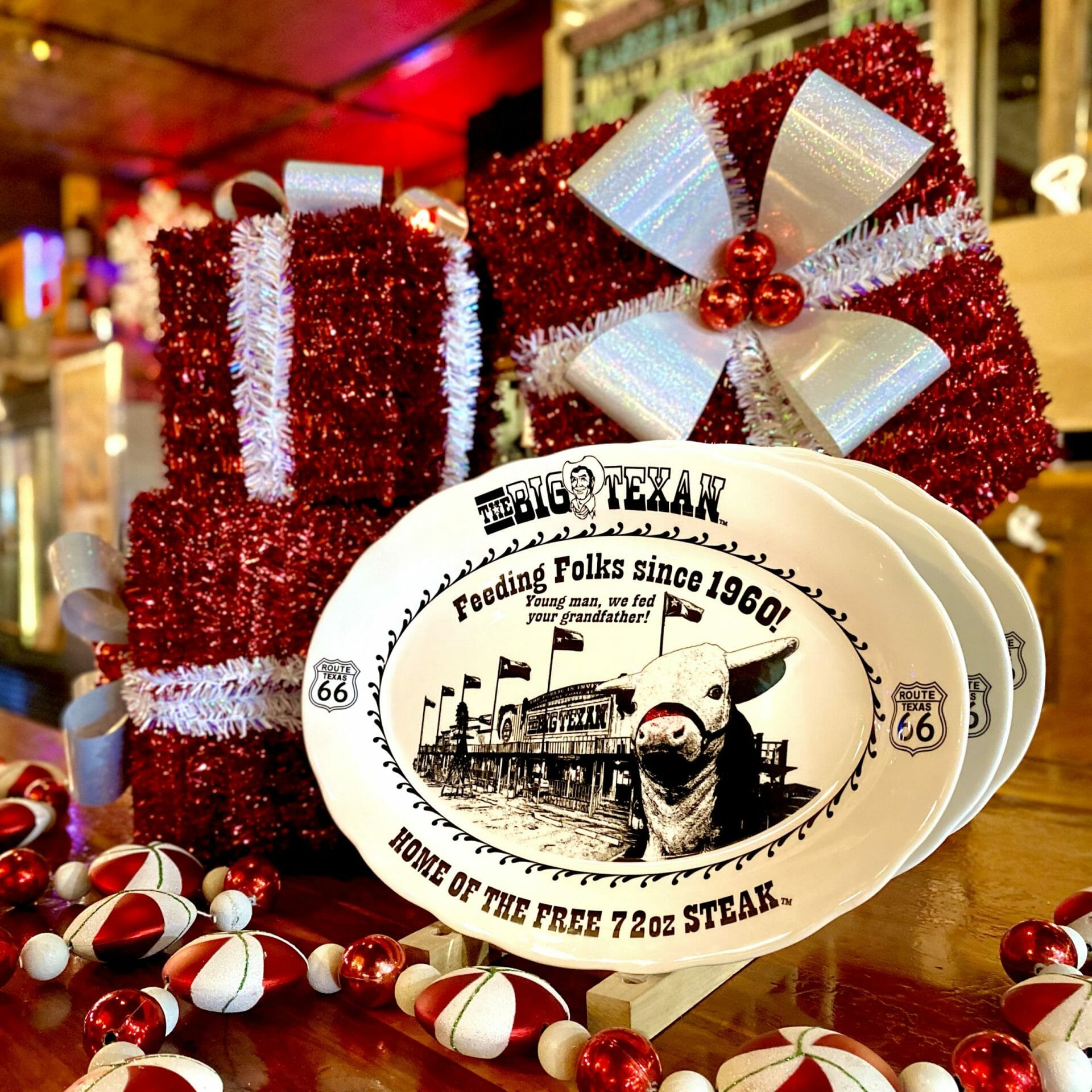 The Big Texan, No.1 Steakhouse in Texas
The Big Texan Steak Ranch was rated the no. 1 steakhouse in Texas by the Texas Country Reporter. 






FREE LIMO PICK-UP
806-342-LIMO
Ride in style on your way to the Big Texan. Call and be picked up in one of our limos from your hotel, RV park, or Airbnb. What better way to arrive to eat your 72oz steak than to ride in a Big Texan limo with longhorns mounted to the front?
Big Texan Live
Be featured on our Youtube channel, Big Texan Live, when you attempt the 72oz steak challenge! Not only can you watch a 24/7 live stream of the 72oz steak competitors, but you can also now be featured in your own video to share with your friends and family. Go subscribe and hit the bell to never miss a 72oz steak challenge attempt.