Welcome to the world famous Big Texan Steak Ranch in Amarillo Texas!
Learn about all the exciting things to do at the Big Texan Steak Ranch! Check out the winners and rules to the 72oz Steak Challenge. See our full menu and take-out options. Shop our giftshop online. See full list of our handcrafted beers from our brewery.
In 1960, R. J. "Bob" Lee opened The Big Texan Steak Ranch in Amarillo Texas on Route 66, the "Mother Road". It's distinctive architecture soon became recognized across the Mother Road as a good stopping place for great steaks grilled over an open flame. The Big Texan is famous for the FREE 72oz steak challenge, which includes eating a salad, baked pototeo, shrimp cocktail and 72 ounces of beef! 
World Famous Steaks
Check out our online menu. Whether you want a 8oz filet or a 72oz steak, we offer steaks from all shapes and sizes! We also offer Texas BBQ, salmon, chicken fried steak  and other options as well.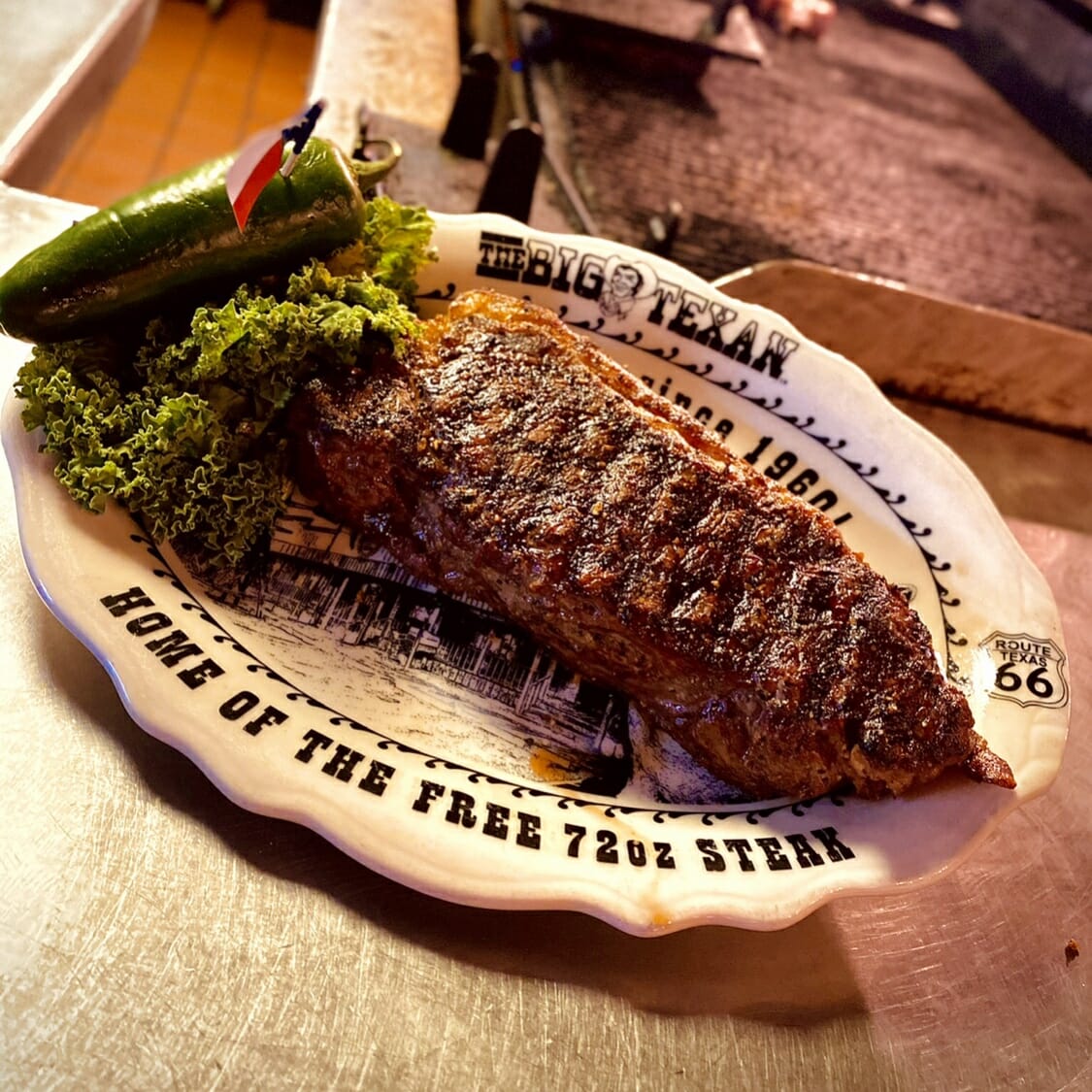 Always visit. Great food, excellent service. Friendly, entertaining atmosphere.
-Linda French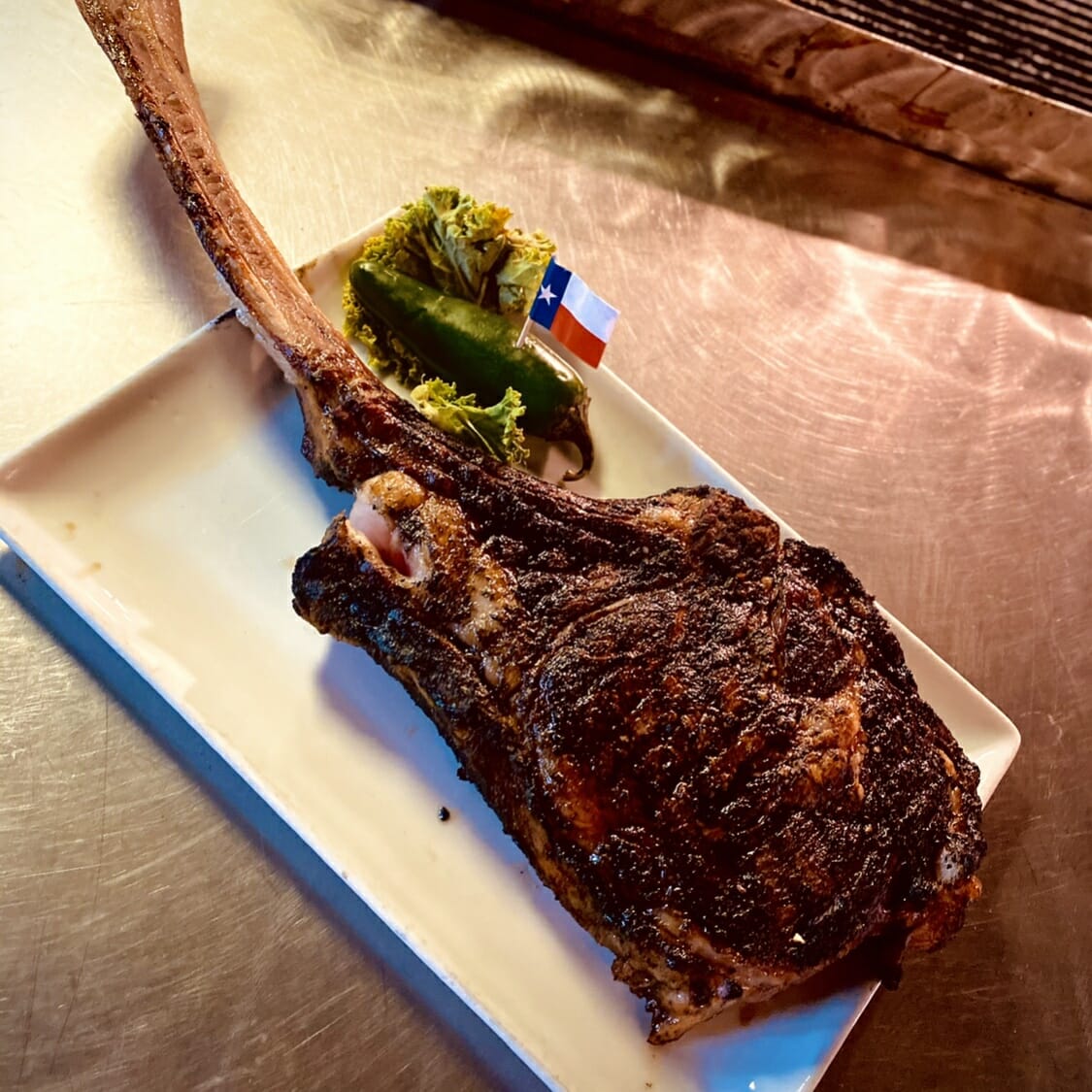 Good food great service my second time coming in 3 years love it I will return next year.
-Maria Cavazos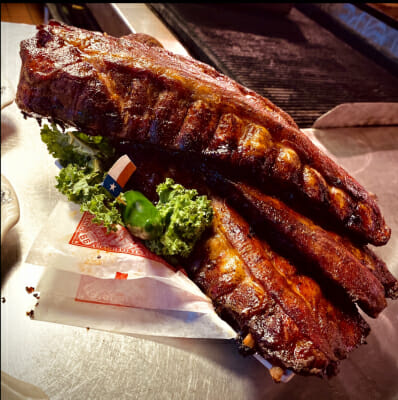 Food wonderful. Service was awesome. Would recommend to anyone.
-Korrie Sowers
Buy 3 Plates, Get One FREE
Complete the whole set this year with this limited time offer. Purchase 3 of our plates and receive the fourth one for FREE! *Add four plates to your cart to receive the discount.

Steak Seasoning

Big Texan Plate

25$ Gift Card

Big Texan Coffee Mug
Plan Your Big Texan Experience
The Big Texan has more to offer than just big steaks! Now experience live outdoor concerts, or stay with us either at our RV park or our AIRBNBs on property.
Historic 72oz Steak Moments
Check out some of our favorite moments with the 72oz steak! Watch Molly Shulyer devour 3 72oz steaks under 20 minutes or watch the Big Texan scene in the movie, "Waking Up in Reno."
Big Texan LIVE!
Watch friends & family take on the Big Texan 72-ounce Steak Challenge LIVE! Not only do we Live stream eaters 24/7 on our website, we also live stream on our Youtube channel, Big Texan LIVE. Challengers can attempt the 72-ounce Steak at any time during regular business hours so be sure to subscribe to our channel to be notified when the next eater takes on the challenge. 
FREE LIMO PICK-UP
806-342-LIMO
Ride in style on your way to the Big Texan. Call and be picked up in one of our limos from your hotel, RV park, or Airbnb. What better way to arrive to eat your 72oz steak than to ride in a Big Texan limo with longhorns mounted to the front?