Promotion Ends January 1, 2021.
Buy one, get one
on your next visit
FREE
We are now offering a great value promotion for our guest. With the order of our award winning Oh My Chicken Fry (Chicken Fried Steak Dinner), guest will receive a voucher that can be redeemed for another Oh My Chicken Fry (Chicken Fried Steak Dinner) at a later date. Guest may also redeem their voucher for their choice of a Quesadilla, Chicken Fried Chicken, Fried Fish Filet or a Big Texan single stack Cheese Burger.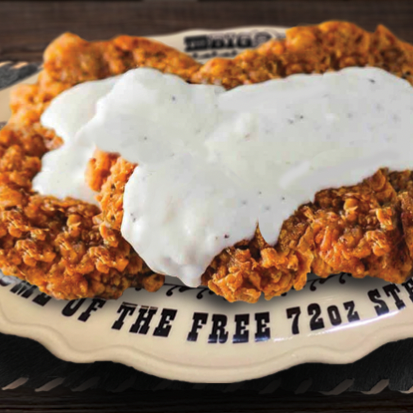 Please note that vouchers cannot be redeemed on the same date as they were issued, and must be redeemed within 30 days of the issue date. Voucher only redeemable for dine-in. The voucher is non-refundable and has no cash value. The Big Texan is not responsible for lost, stolen or misplaced vouchers. The voucher does NOT include beverages or server gratuity. 
Other Redeemable Options
Redeemable coupon only given with the purchase of a chicken fried steak first.

Chicken Fried Chicken

Quesadilla

Fried Fish Filet

Single Stack Cheese Burger